by Alan Taylor (published in The Atlantic on 24 October 2018)
As the days grow shorter, one might feel a strong urge to find a warm place indoors and cozy up to a good book. As much as our world hurtles toward digitized information, physical books remain popular, useful, and revered items. We share, use, collect, and read billions of books every year, and we house our most treasured ones in libraries, in some of the most remarkable architecture around the world. And for those who cannot access these amazing buildings, there are volunteers who fill the need as they can, creating mobile libraries to bring books to people in remote places. Today, a visual feast—glimpses of libraries big and small, new and old, from across the globe.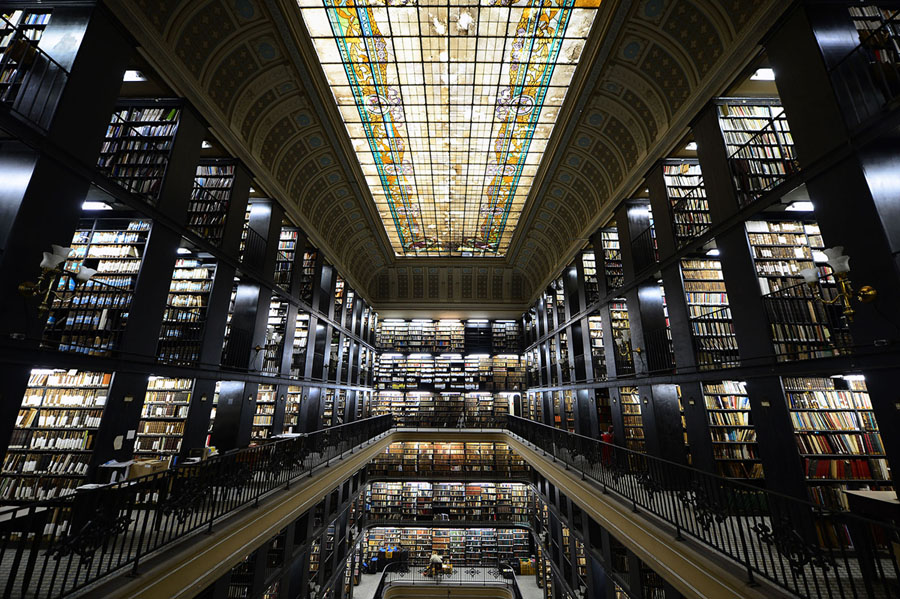 A view of the interior of Brazil's National Library, photographed in Rio de Janeiro on April 24, 2012.
Starfield Library, a mega-library located within COEX, a huge shopping mall in Seoul, South Korea.
The modern interior of the Stuttgart Library, in Stuttgart, Germany, photographed on April 19, 2018.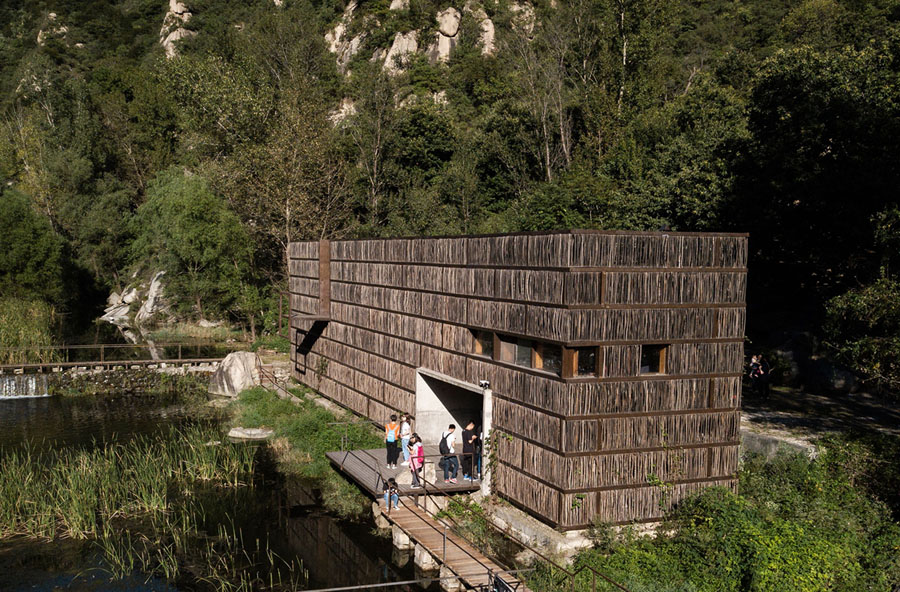 People visit Liyuan Library on the outskirts of Beijing, China, on September 15, 2018. Deep in the heart of a valley surrounded by rocky hills, this wooden library sits over a creek on the outskirts of Beijing, seemingly in the middle of nowhere.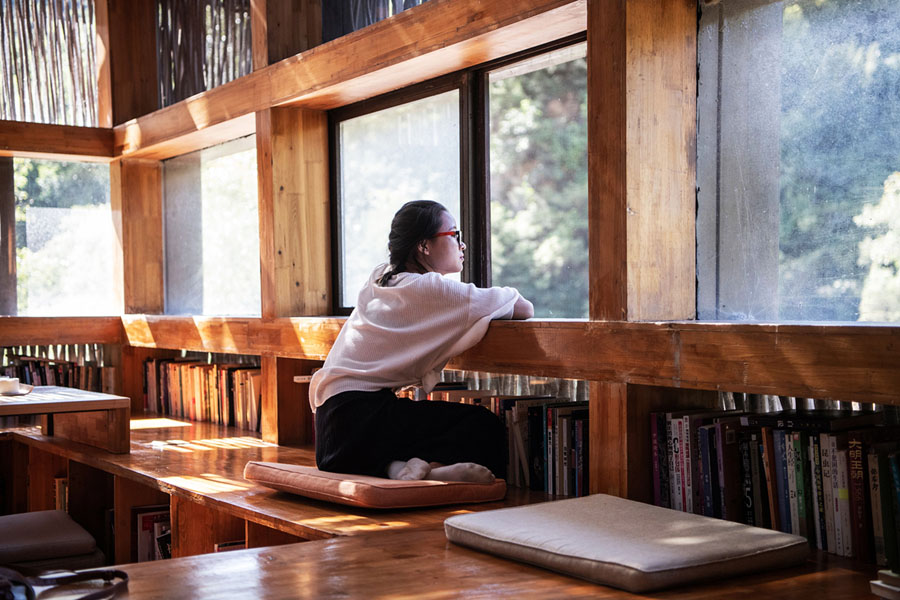 A woman looks out of a window at Liyuan Library outside of Beijing on September 15, 2018. Every weekend, hundreds of bookworms flock to Liyuan Library in Jiaojiehe Village, a book sanctuary surrounded by chestnut, walnut, and peach trees, whose branches were used to decorate the building.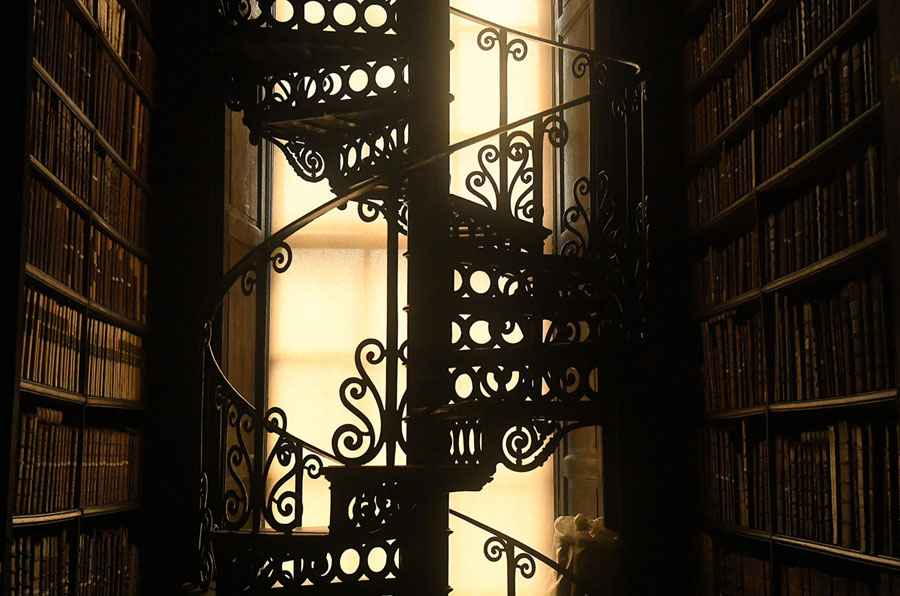 A detail of the interior of the Long Room in the Old Library filled with 200,000 of Trinity College's oldest books in Dublin, Ireland, photographed on September 14, 2018.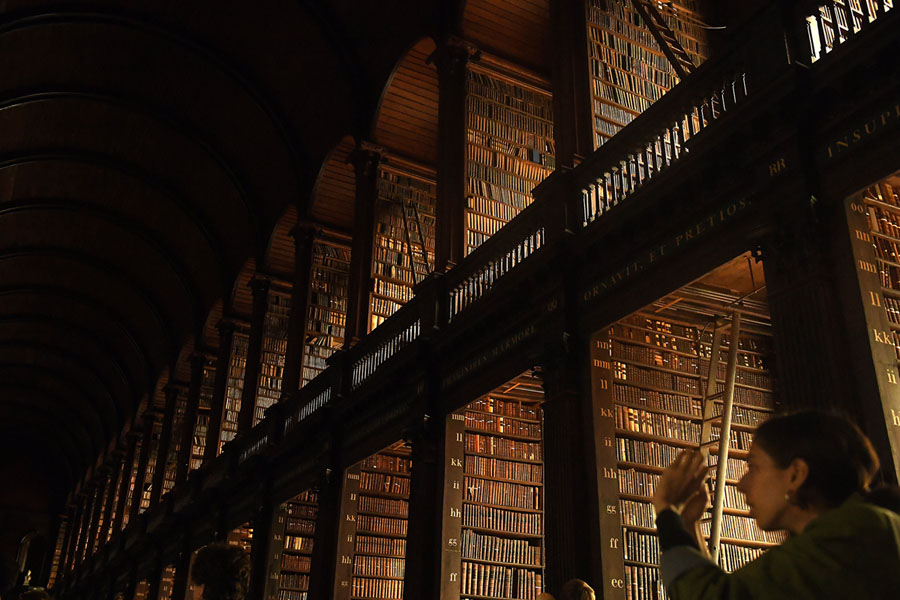 A tourist takes pictures in the the Long Room of the Old Library in Trinity College in Dublin, Ireland, on September 14, 2018.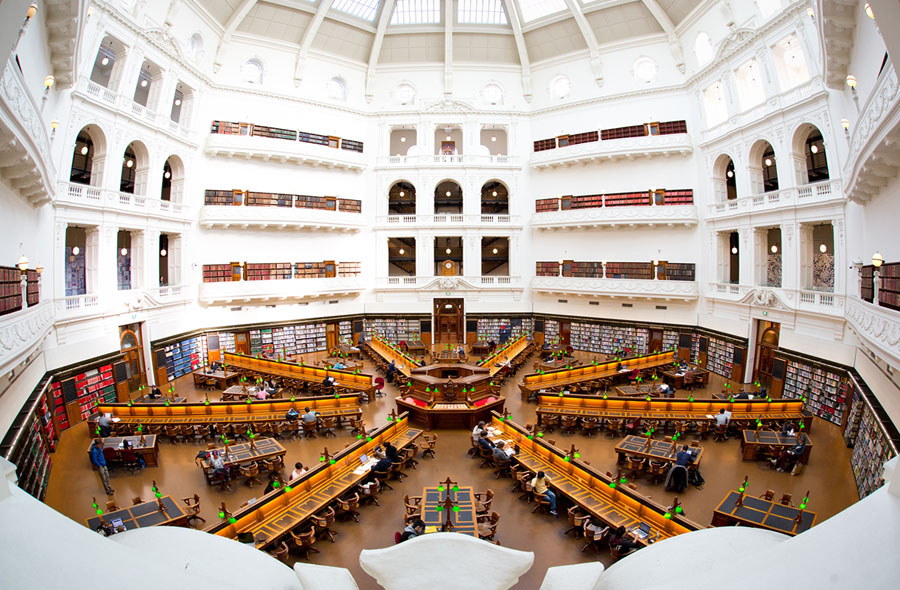 Visitors read in the La Trobe reading room in the State Library of Victoria in Melbourne, Australia, on July 3, 2014. The library holds more than 2 million books.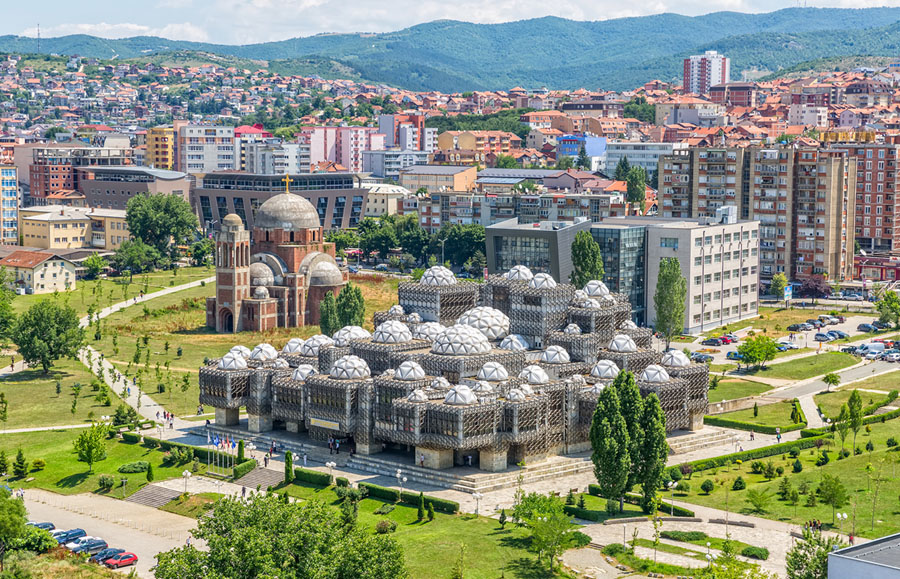 An aerial view of the National Library of Kosovo in the capital city of Pristina on July 1, 2015.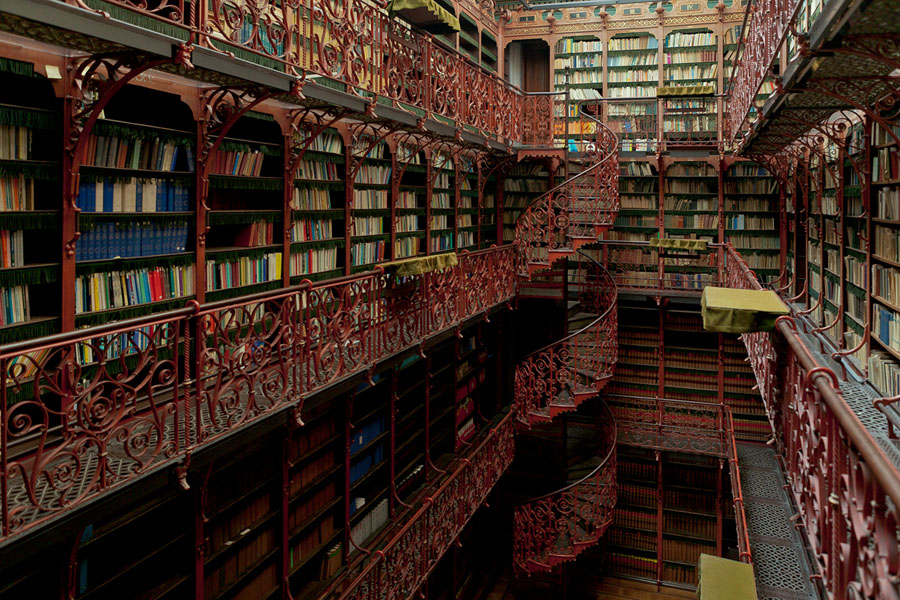 Detail of "Handelingenkamer," the library that contains all dealings and minutes of the Dutch House of Representatives, photographed in The Hague, Netherlands, on August 29, 2012.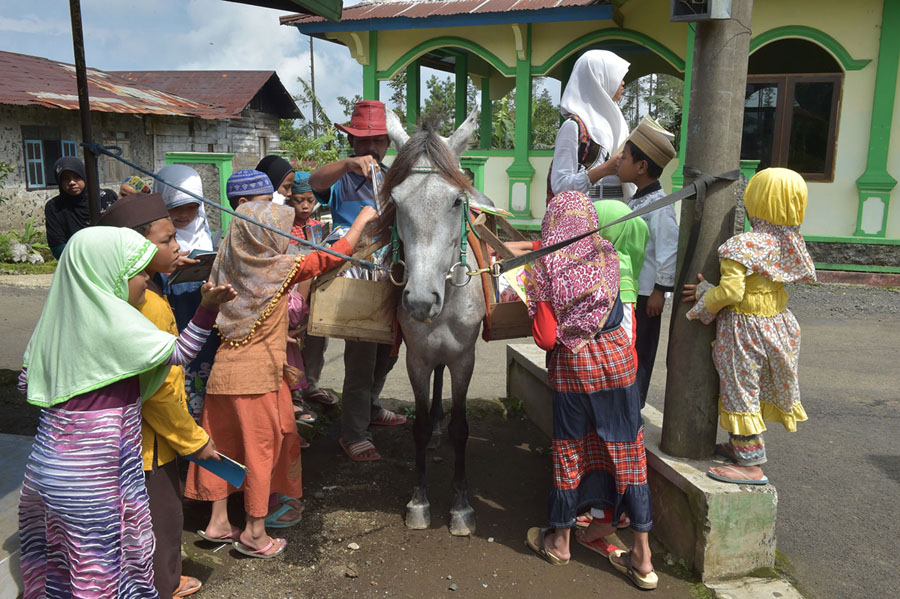 Indonesian children sort through books in boxes carried by a horse as Ridwan Sururi (behind, in the red hat) compiles a list of requests for his "mobile library" in Serang, a small village on Indonesia's main island of Java, on March 30, 2016. Sururi, a 43-year-old professional horse groomer, came up with the mobile-library concept to encourage reading in his district. For many there, Sururi and his horses are their only link to books since there is no traditional library nearby.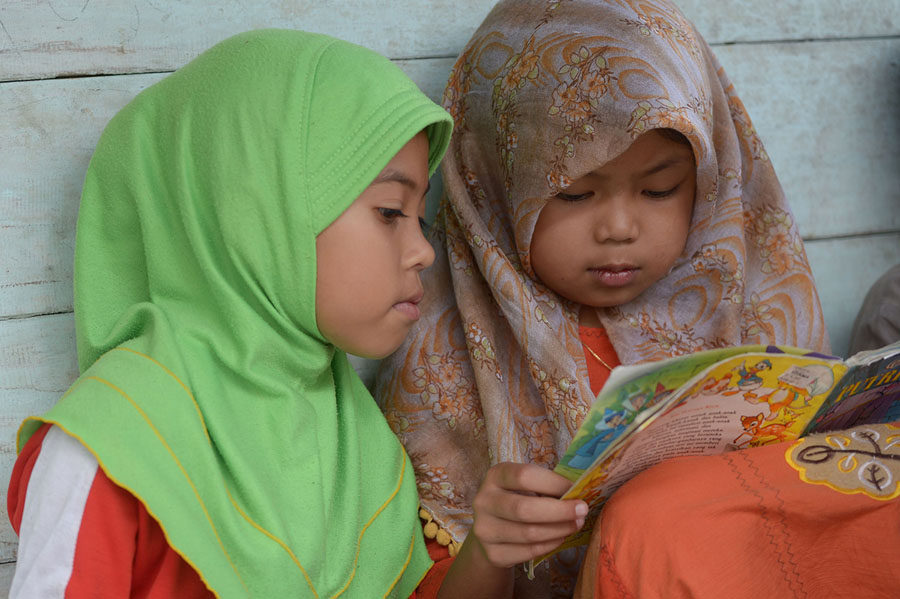 Indonesian girls read a book brought to their village by horse, in a mobile library run by Ridwan Sururi in Serang, Indonesia, on March 30, 2016.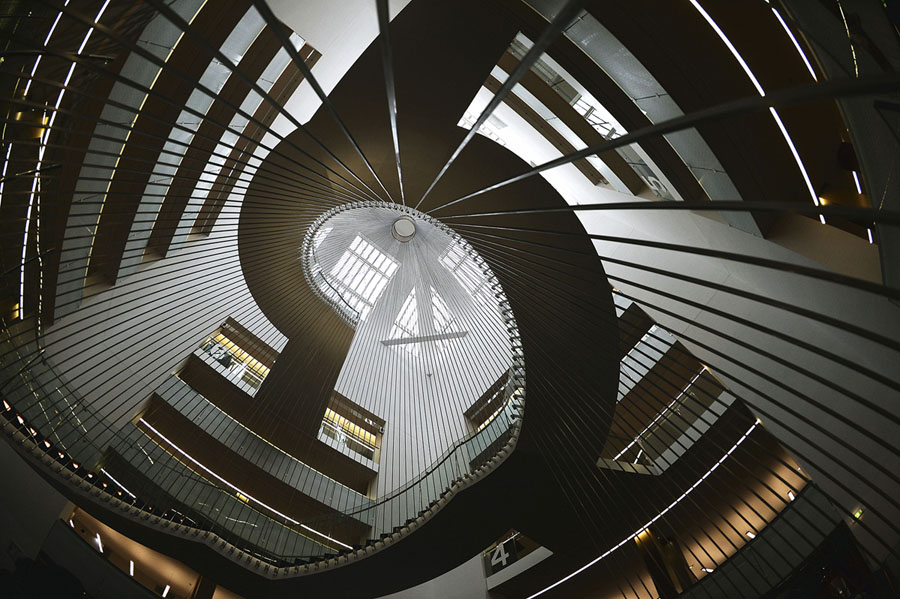 A picture taken on November 14, 2014, shows a staircase in the renovated National University Library (Bibliotheque Nationale Universitaire) in Strasbourg, France.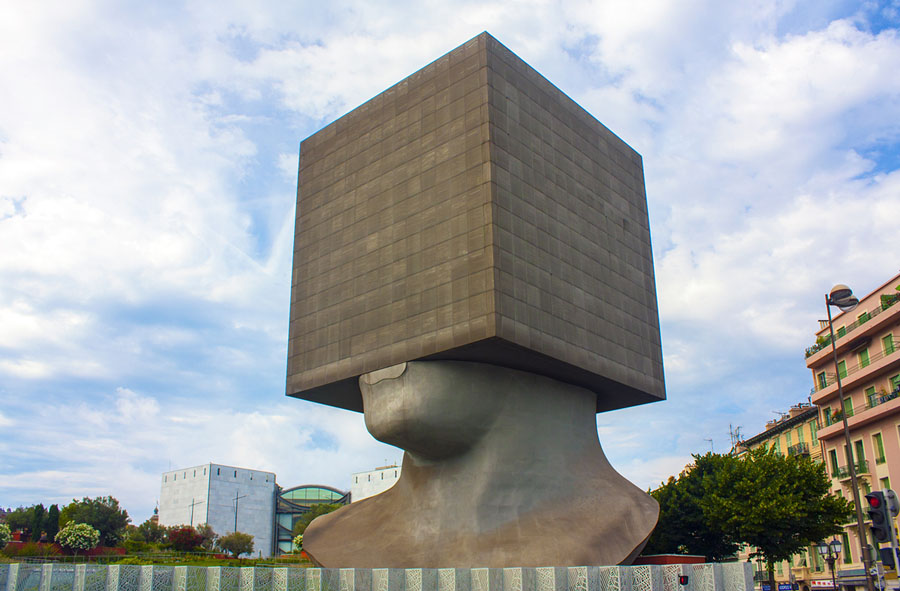 La Tete Carrée, a 100-foot-tall public library building in Nice, France, housing books and administrative offices.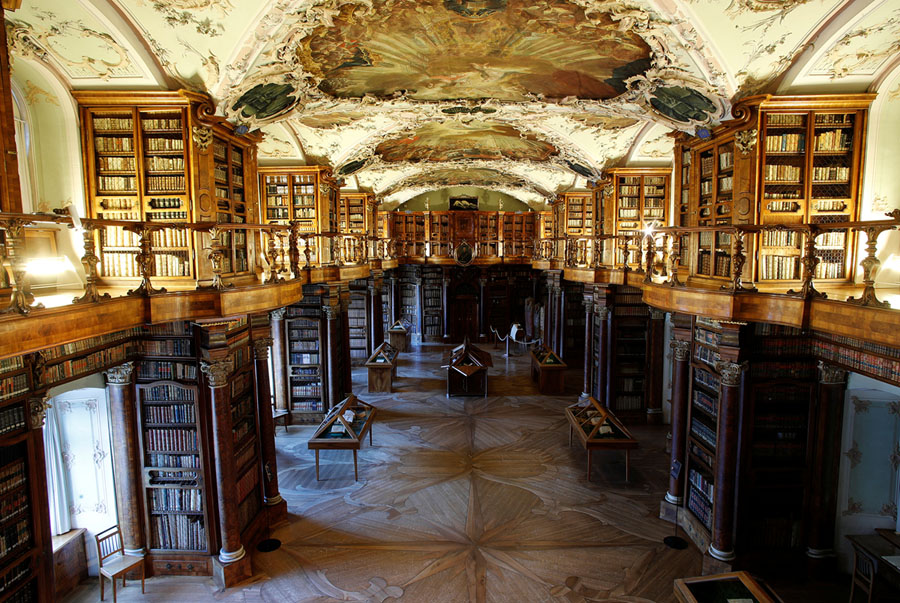 A general view shows the Stiftsbibliothek, or Abbey Library, part of the UNESCO World Heritage site Abbey of St. Gall in St. Gallen, Switzerland.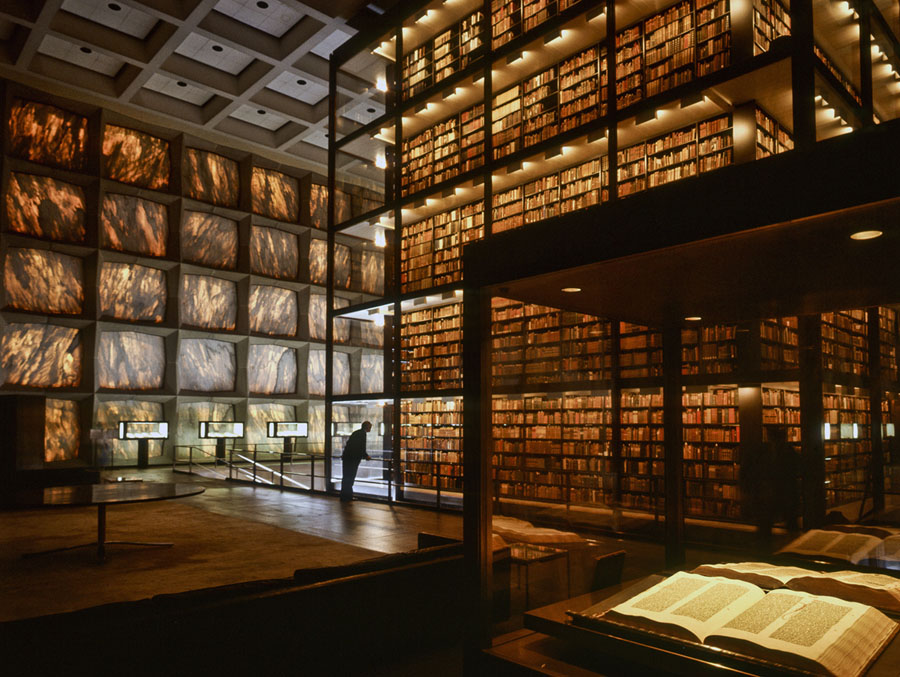 Interior of the Beinecke Rare Book and Manuscript Library at Yale University in New Haven, Connecticut, photographed on October 1, 1984. Designed by the architect Gordon Bunshaft, the windowless exterior walls are made of translucent Danby marble, which transmits subdued light to protect the books. The books are housed in an inner glass shell protecting the book stacks. A Gutenberg Bible is displayed in the glass case in the foreground.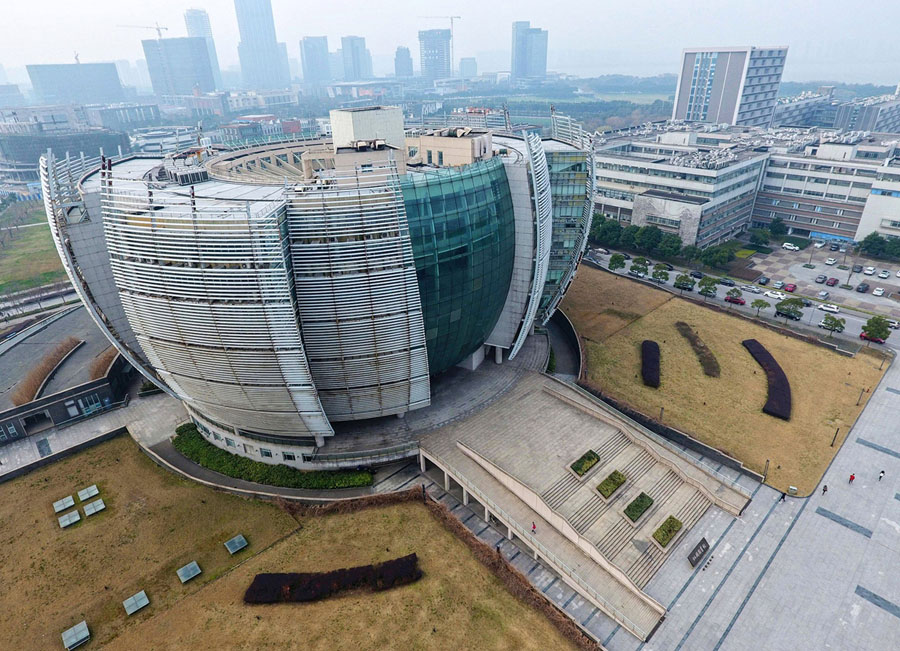 An aerial view of the 130-foot-high lotus-shaped Binglin Library at Suzhou University in Suzhou, Jiangsu Province, China.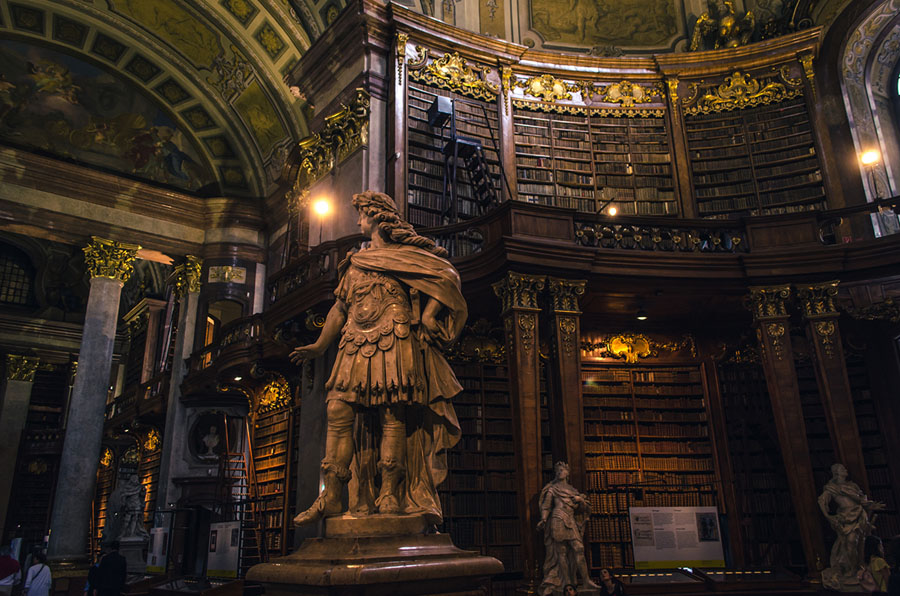 A detail of the interior of the State Hall of the Austrian National Library.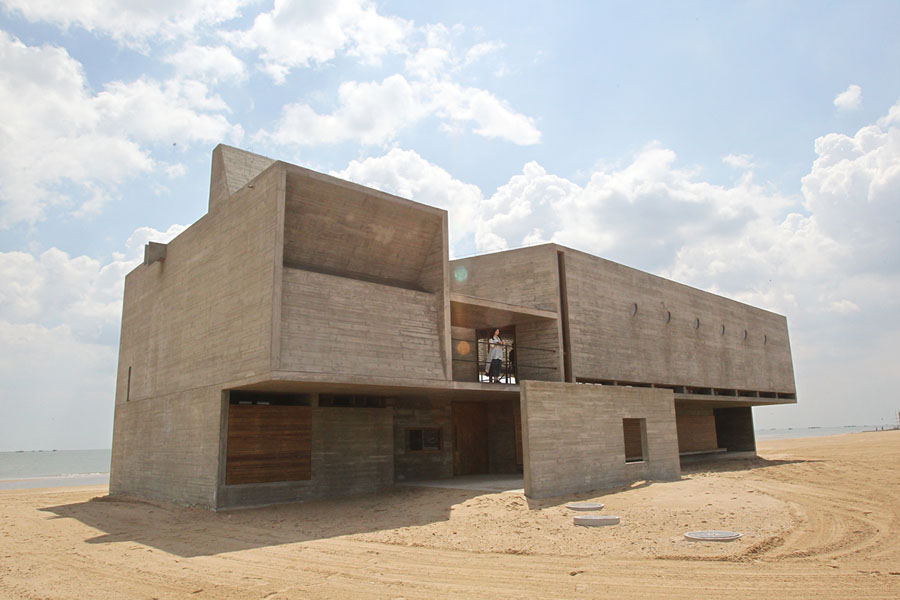 A public library on the shoreline in Beidaihe's New District in Qinhuangdao, Hebei Province, China, on May 13, 2015. The library is built from concrete and wood and deeply rooted in the coastal beach. The wide ocean vistas outside the library and the quiet space inside earned it the nickname of "China's loneliest library."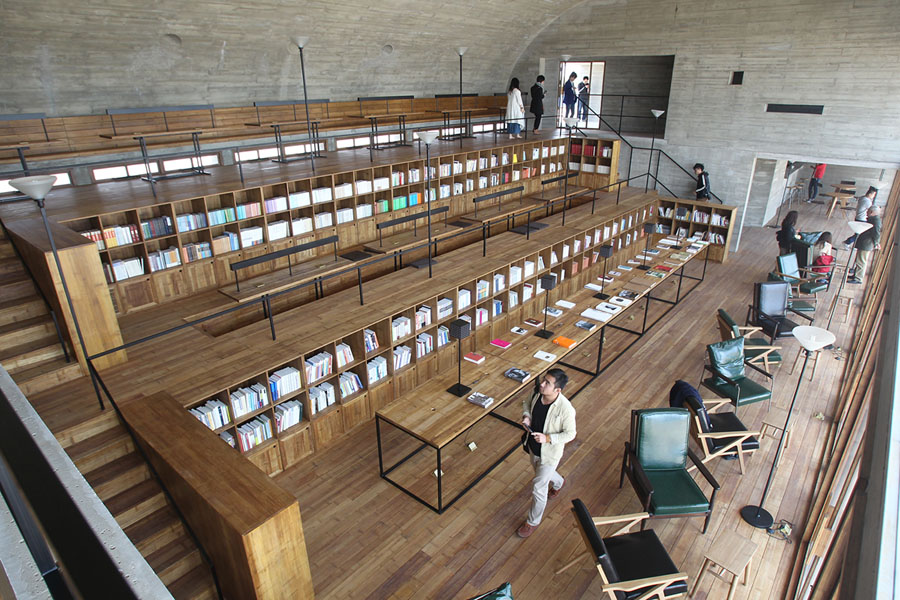 An interior view of "China's loneliest library," a public library in Qinhuangdao, China.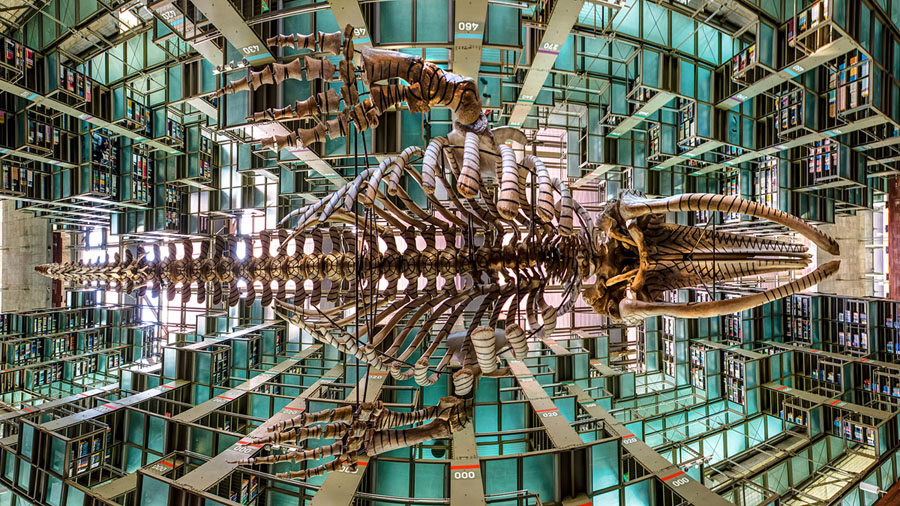 Looking up, a view of a full-scale whale skeleton hanging from the ceiling of the Biblioteca Vasconcelos in Mexico City, Mexico.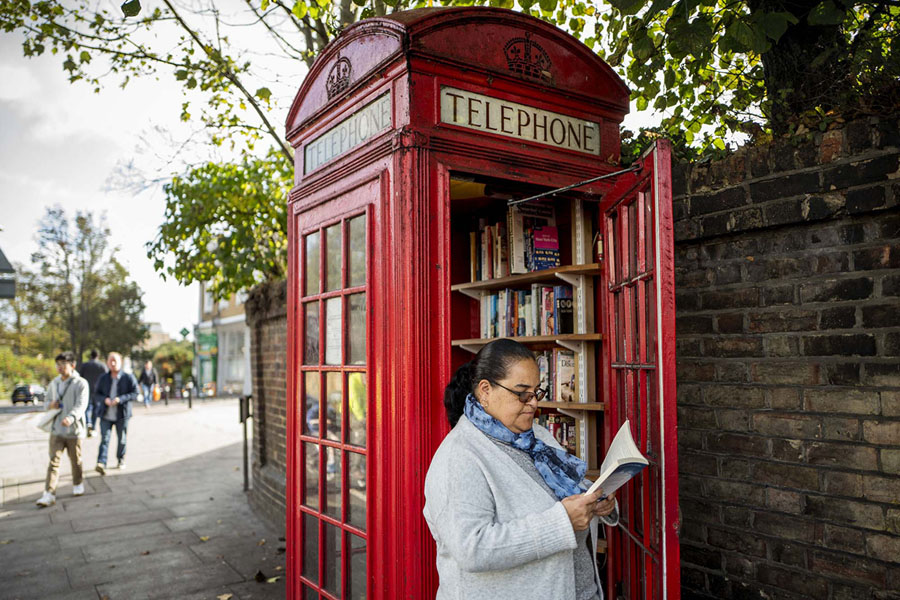 Patsy Ari, a local resident, browses the books in a red telephone box that has been turned into a book-exchange library on Lewisham Way in south London, on October 21, 2017. Facing extinction due to ubiquitous mobile phones, Britain's classic red telephone boxes are being saved from death row by ingenious conversions into all sorts of new uses.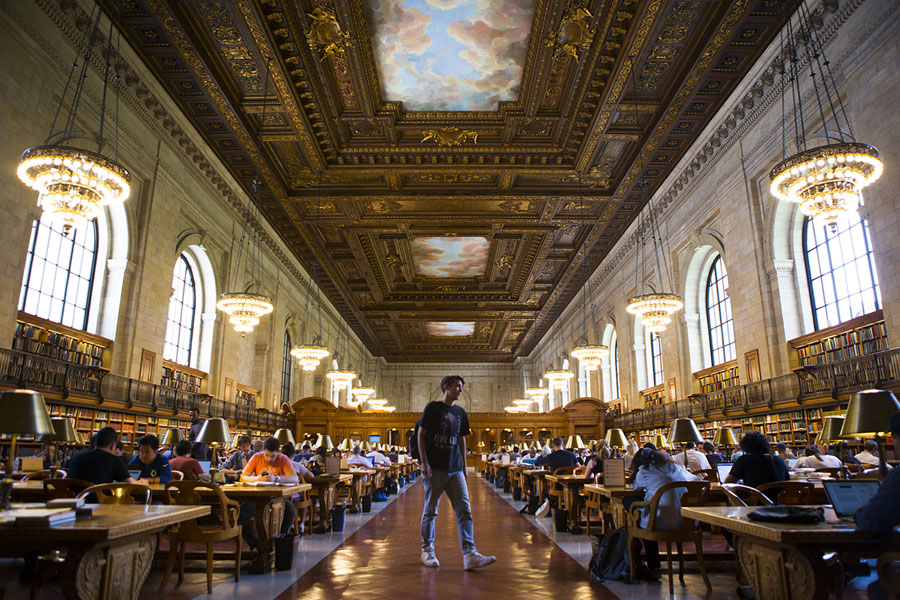 Visitors quietly work in the Rose Main Reading Room at the New York Public Library in New York City.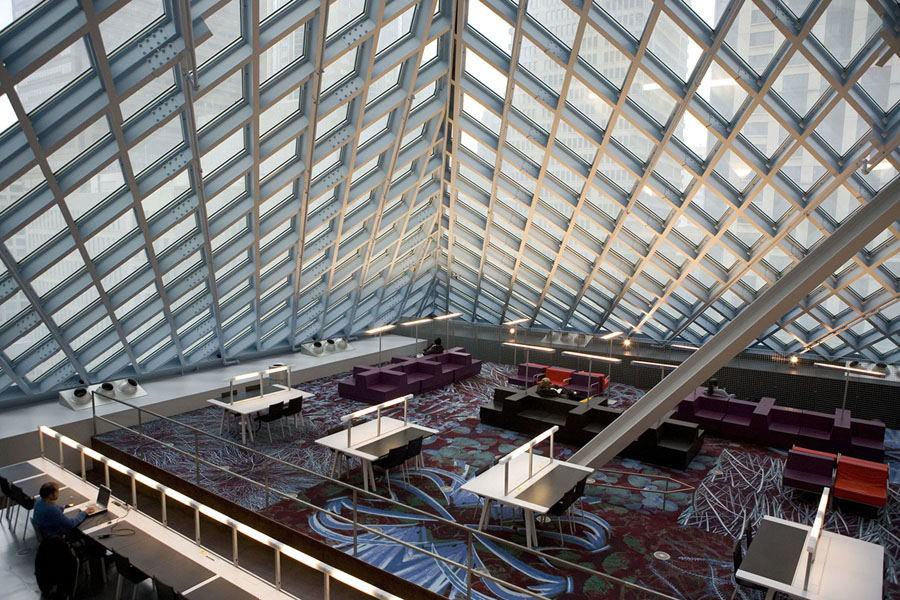 An interior view of Seattle Public Library's central branch, designed by the Dutch architect Rem Koolhaas. The library building, which opened in 2004, has become a landmark in downtown Seattle.
A 24-hour self-service library, found in a park in Wuhan, China.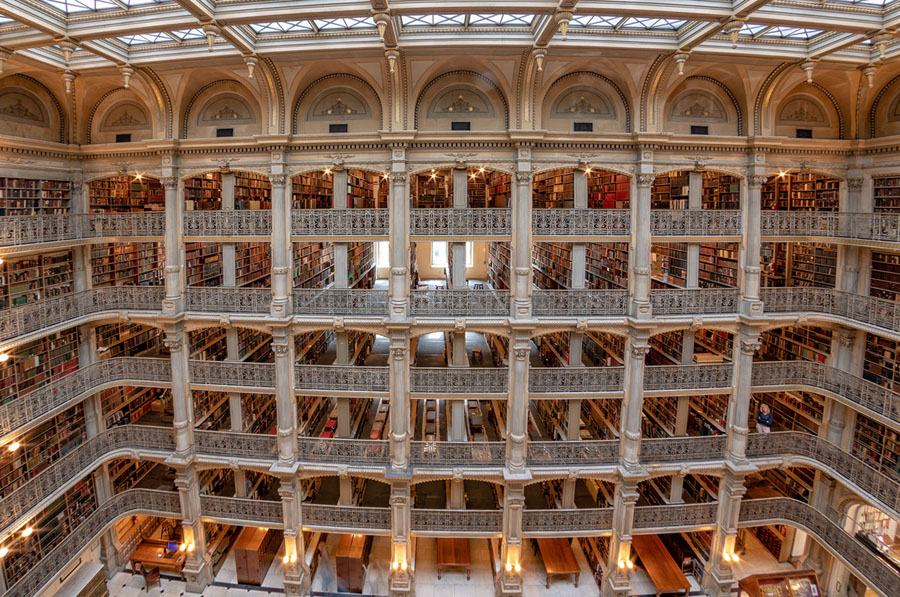 Books line shelves inside the George Peabody Library building in Baltimore, Maryland, on April 30, 2016. Part of Johns Hopkins University, the research library first opened in 1878.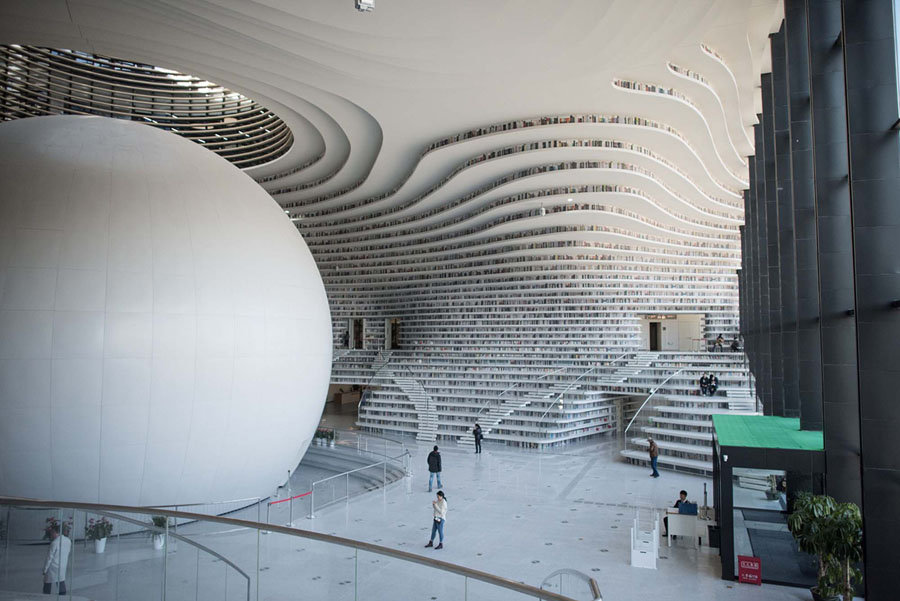 A view of the Tianjin Binhai Library, a futuristic Chinese library, photographed on November 14, 2017. While lower shelves do hold many actual books, upper shelves and hard-to-reach areas are actually covered with images printed on the aluminum plates that make up the backing.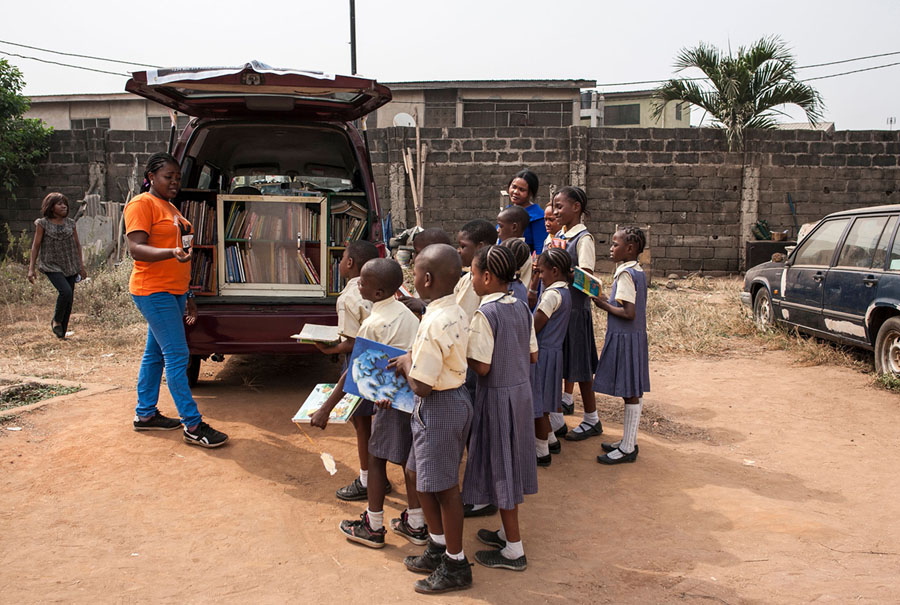 Funmi Ilori (left) talks to the children from Bethel Nursery and Primary School about the importance of reading in Lagos, Nigeria, on January 30, 2018, beside her mobile library. The mobile-library project was launched in 2013 by Ilori, and now she has 13 employees, 1,900 books, and four vans. She visits four to six schools each day, and organizes reading workshops with volunteers on evenings and weekends in the slums for out-of-school children.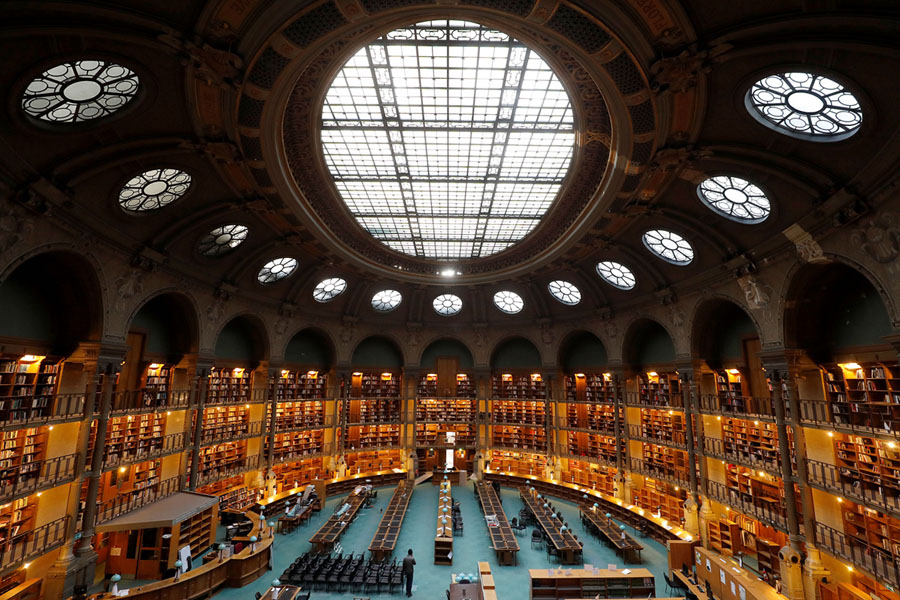 A picture taken on December 15, 2016, shows the "Salle Ovale" of the Bibliotheque nationale de France, the Richelieu-Louvois Library, before its renovation in Paris.
A person stands in the center of stacks of printed materials in the deepest underground floor of the Annex Building of the National Diet Library, during "World Book Day" in Tokyo, Japan.
Afghan children read books in a mobile library bus in Kabul, Afghanistan, on April 4, 2018. The door of the blue bus slides open and dozens of children excitedly bound up the steps, eager to get their hands on hard-to-find books in Kabul's first mobile library. The library-on-wheels offers pupils and street kids free access to children's books, which are in short supply at public schools and libraries.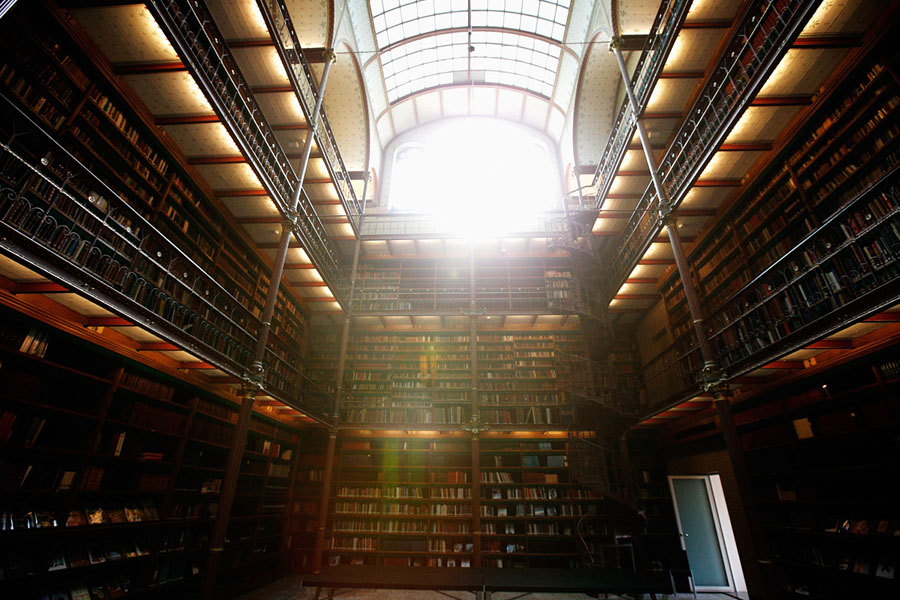 The Cuypers Library, the largest and oldest art-historical library in the Netherlands, is pictured on April 17, 2013, in Amsterdam, Netherlands, following a 10-year renovation of the Rijksmuseum.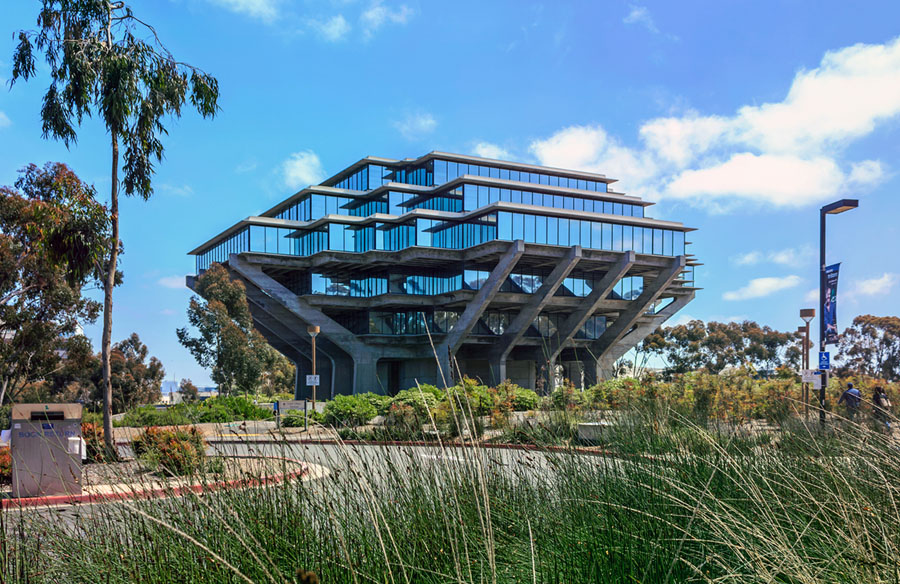 The Geisel Library, the main library building of UC San Diego, photographed on April 3, 2017. The building was named in honor of Theodor Seuss "Ted" Geisel, better known as Dr. Seuss, and his wife Audrey.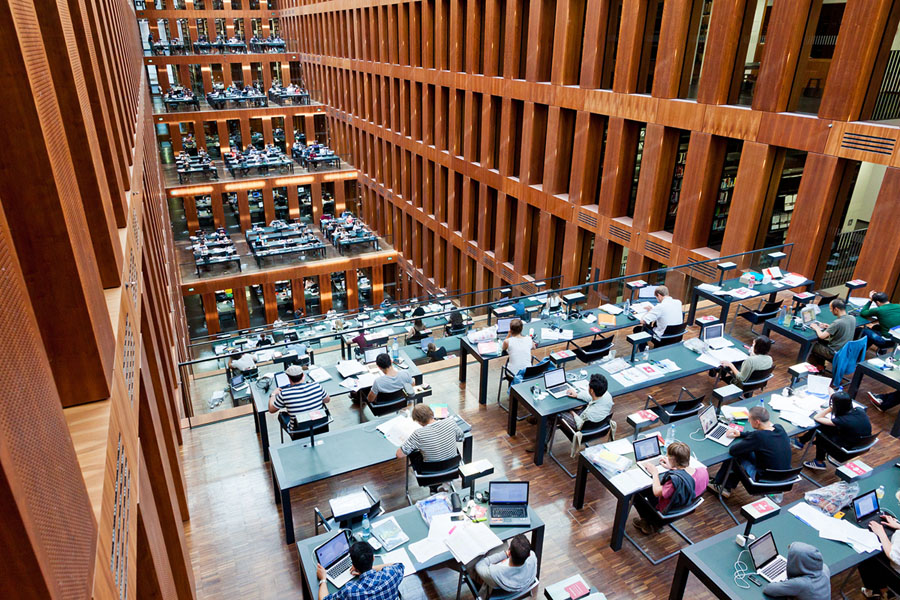 The interior of Humboldt University Library in Berlin, Germany.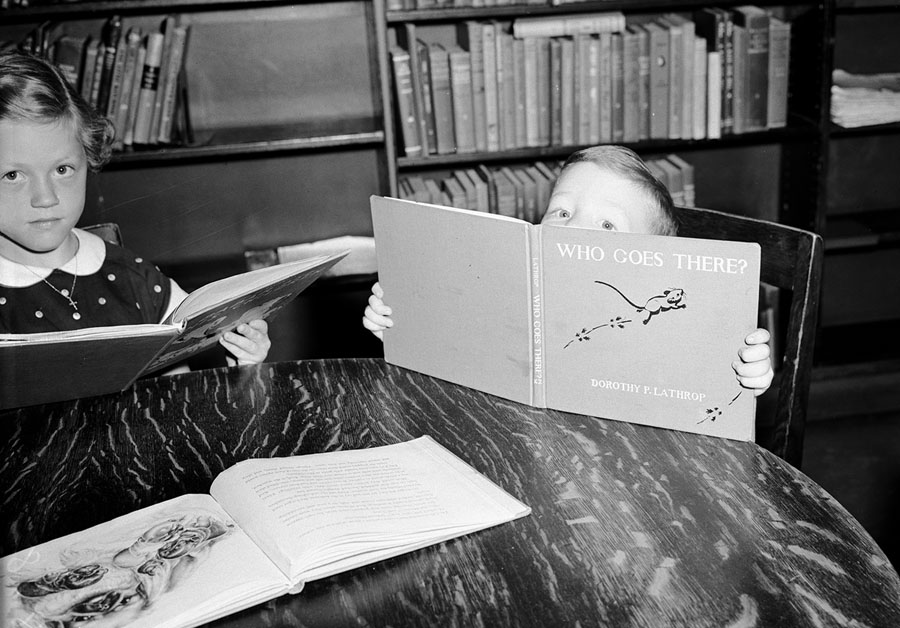 Steve Arentz, age 3, discovers the glories of picture books in a North Hollywood library, as his sister, Sherry Arentz, age seven and a half, reads beside him, in California on July 15, 1953.